On September 24, grade 10 students from Swan Hills School and Barrhead Outreach School began a week-long program that allowed them to complete Career & Life Skills 20 (CALM 20), a course required for graduation, as well as 2 Career & Technologies (CTS) courses – Leadership Fundamentals 1 (HSS 1080) and Environmental Stewardship (ENS 1010). Although completing 5 credits of coursework within a single week is possible under Alberta Education's High School Redesign, which no longer ties completions to the number of hours studying content and instead focusses on demonstration of competency achievement, it is still no easy task. Whereas students might usually complete CALM 20 and a variety of CTS courses in a classroom block over the course of a semester, our students traveled to Parks Canada's Palisades Stewardship Centre in Jasper to engage in 5 very full days of experiential learning that allowed them to meet criteria for addressing outcomes for several courses.
Each day after breakfast, students began a series of activities under the guidance and instruction of their teachers and Park Rangers. Students engaged in photography sessions, as well as GPS training and orientation hunts. They learned the history of Jasper National Park, about the people who originally settled and dwelled in the area, and they learned how the area came to be protected for the sake of future generations. Part of this learning involved environmental stewardship, and students discovered effective methods of opening natural areas to tourism without causing damage to the landscape, forests, and the many animals that make the park their home. While some students got to see a black bear and a pair of elk who roamed through the Palisades, others visited game trails to check the cameras recording grizzlies rubbing on trees and cougar lounging at the waterhole.
Following training on safe usage of various hand tools, students reclaimed a walking trail in the foothills, a task with great meaning for many who felt they had positively impacted natural tourism through their efforts. Part of the experience involved survival training, and students learned fire-building techniques as well as how to build efficient structures to shelter themselves from the elements. Every task and every game in which students participated was purposeful, usually to encourage and strengthen teamwork, relationship-building, and leadership, and course outcomes were met with each activity. In addition to the experiential aspects of HSS, ENS, and CALM, students attended classroom sessions to learn the budgeting and the financing skills they'll very soon find necessary, and they created resumes, explored career options, and participated in creating mock job interviews.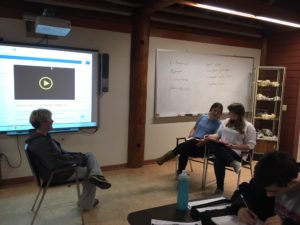 Each day was full, running from 8 am to 8:30 pm, and students were usually very tired after a day of hiking up Maligne Canyon, canoeing across Lake Edith, or working together to build a log cabin. The Palisades Stewardship Centre provided comfortable rooms, beds, and hot showers, for all participants, as well as all equipment needed for learning activities. Full buffet meals were available at the Centre, and bag lunches were provided on the days students traveled off-site for their activities. Students said they enjoyed learning outside of the school walls, that they would welcome the opportunity to take more experiential classes, and they recommend the program to successive CALM and CTS classes.
Click HERE to see a slideshow of photos from the week in our Photo Galleries.